EAM Consulting Inc takes a holistic approach to asset management. It is very important to assess a client's asset structures and to understand their current state. We do this through our maturity assessments and workshops with stakeholders and line department experts. Our goal is to understand Organizational Capability, Policy and Process Frameworks as they relate to Technology Solutions. This is vital in developing a successful roadmap that drives an organization's implementation or improvement of their asset management program.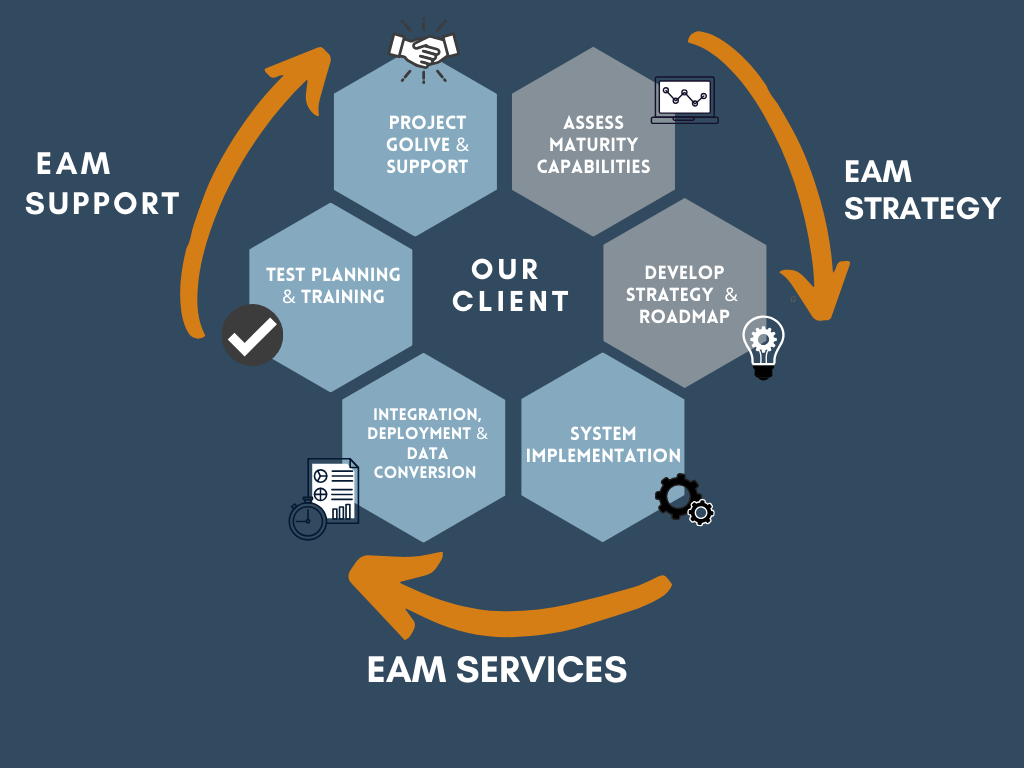 The Importance Of Asset Information
Asset information definition and data collection can be a missed aspect in an implementation, or just started too late, in many organizations. This is due to many organizations not realizing when the definition and gathering of information should begin. This process begins in the conceptual stage of the asset lifecycle. We will be pleased to assist you in these efforts. EAMC is a highly experienced team in the development of asset information policies, processes, standards, modeling, and templates.  
Asset information is more than Make, Model, and Serial number. Asset Information is the lifeblood of an asset management solution. It is information that will be shared across multiple systems that require specific details necessary to determine overall health, cost, location, availability, plus other technical aspects of the asset. This information should be captured or integrated and made available in your EAM system. This information needs to be made available not only for engineering, planners, safety, schedulers, finance resources and management, but also the workforce required to perform maintenance of the asset. This is true whether the asset is in a vendor or operating location, or still contained within the warehouse awaiting deployment to the field.
We work with clients to help them better understand what good asset information is, how to capture it, where and how to store it, and how to use it when necessary in the process of an optimized asset management program.
Develop Strategic Asset Management Plans, Roadmaps, Projects
EAM Consulting Inc can help you in many aspects of your EAM Strategy. Our programs follow ISO 55000 principles and we can assist you in laying out a roadmap toward EAM excellence by planning all the steps needed to achieve that goal.
This roadmap will include aspects of developing Organizational Capability, Policy and Process Frameworks and Technology Solutions.
The development of Organizational Capability is centered around aspects of your teams roles, responsibilities and capabilities as related to your asset management process.
The development of Policy Process and Governance Frameworks is centered towards the development of the rules of engagement related to how the teams will conduct themselves during the asset management engagement. 
The Technology Solutions encompass the overarching architecture and design of the enterprise system, including the applications selected to best provide the means to capture the data, store the data, and to provide useful information that will be utilized to make intelligent business decisions moving forward.
EAM Strategy also includes defining a plan based on the asset standards developed for collecting the needed data on your assets. This includes working to collect that asset data and leading projects to design and re-design business processes for Asset Intake, Transition and Handover to Operations, and many other business areas.
For EAM Consulting Inc, the focus is always on the needs of the individual client. We will help you see the actions and projects that need to be executed to achieve your specific EAM Strategy needs.