We provide world-class comprehensive support services to our clients across the globe with both onshore and offshore models. We provide professional and comprehensive solutions in line with industry-standard frameworks to manage and support your IT requirements per Asset Management best practices. 
Infor EAM is a fully integrated platform that uses advanced analytic tools and IoT data to improve operational availability and reduce risk. At EAM Consulting Inc, we implement the tools enabling you to operate high-value physical assets with visibility and control across the enterprise to optimize performance, extend asset life cycles, and to reduce operational downtime and costs. With multiple deployment models, you can maintain all asset types no matter where they reside, set up new assets quickly and upgrade enterprise asset management (EAM) software automatically for nonstop uptime and minimized risk.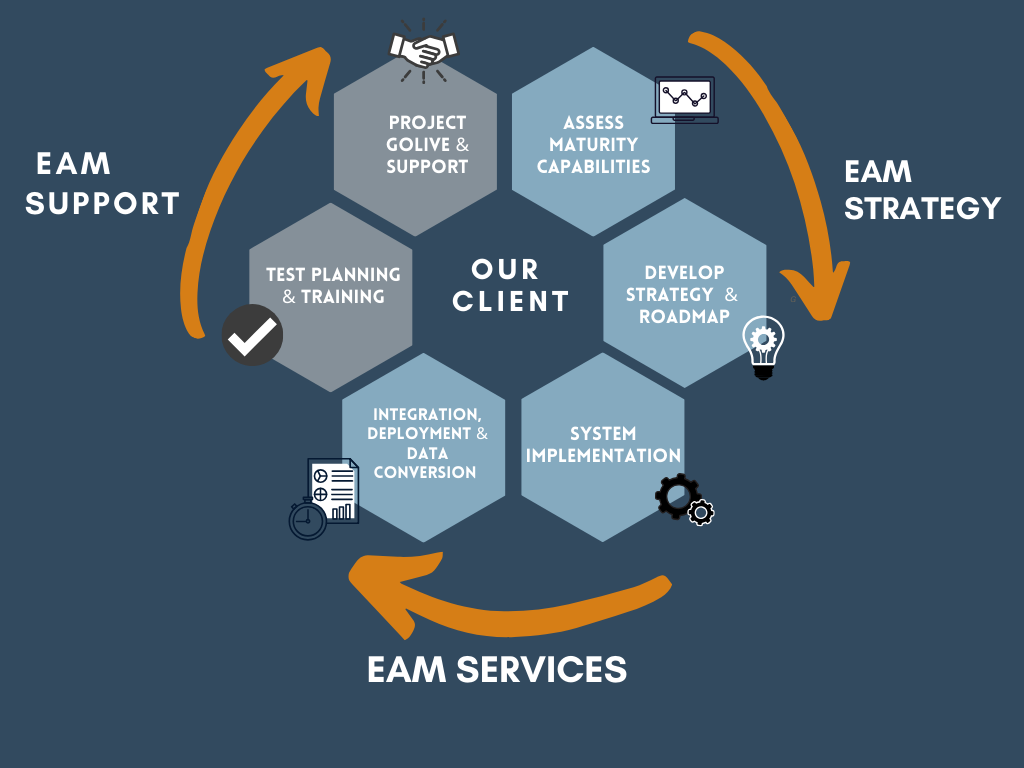 Consulting
Requirement Analysis
Enterprise Road Map
Assessment & Strategy
Project Management

Data Management
Data Collection
Data Integration
Database Development
Data Analysis and Modeling
Data Query
Enterprise solutions

Analytics
Statistical Analysis
Mapping & Visualizations
Reporting

Working in tandem with your information technology goals and infrastructure requirements, including both hardware and software to enhance the company's process efficiency resulting in optimum service delivery, is the main contribution of EAM Consulting Inc's IT Infrastructure Support services. We combine extensive real-time domain knowledge supported by stringent quality control processes to deliver business technology solutions across various technological stacks. We provide the following services:
We offer integrated, policy-driven network security management to improve efficiency and cut costs
Firewall, Unified threat management.
Security event & compliance management.
IT consultancy to migrate services on cloud computing including MS Exchange, Communication Server and Office 365.
Cloud services offerings – Infrastructure as a Service (IaaS), Software as a Service (SaaS), Platform as a Service (PaaS).
Virtual Server & Storage, Online Backup, Disaster Recovery, Archival-as-a-Service, and Email-as-a-Service.
We take the responsibility for monitoring, managing and/or problem resolution remotely for selected IT systems and functions as listed.
Onshore and offshore IT infrastructure management
Desktop Support Management
Server Support management
Network Support Management
DBA Services – MSSQL, MySQL, Oracle, DB2
We can help you implement and support a variety of scenarios for Infor EAM and GIS integrations that will allow you to access assets in real-time, whether they're moving or stationary. This will enable you to gain full visibility of your operations to improve service, safety, and reliability. 
Our range of recommended mobile products is designed to closely integrate with Infor EAM. Our consultants will work closely with you to select the technology which best suits your needs and budget. As well as the application selection, we can advise you on additional considerations such as the platform of choice, support of devices, device management, and RFID/Barcode options. If you have a preferred mobile product we can integrate that with Infor EAM for you thereby making the most of any existing technology investment.
EAMC has the combined experience and knowledge of more than 200 years and can help you identify the gaps in your business and functional processes. We specialize in Gap Analysis and Assessments to ensure that you are getting the return on your investment for both your Assets and Project Implementations.
EAM Consulting Inc is rightly positioned to help troubleshoot your Infor EAM issues and to get you back up and running quickly. Our dedicated Support Team leverages the experience of our entire consulting team, which averages several decades of implementation experience across multiple industries and product versions. Technical Support is among our strengths – all client needs are satisfied by certified and experienced technical engineers.